Investor Relations
Investor Relations
Corporate Profile
Materion Corporation (NYSE:MTRN) is an integrated producer of high performance advanced engineered materials used in a variety of electrical, electronic, thermal, defense, automotive electronics, telecommunications infrastructure, energy, commercial aerospace, science, services, appliances and structural applications. Our products are sold into numerous markets, including consumer electronics, industrial components, medical, defense, automotive electronics, energy, telecommunications infrastructure, commercial aerospace, science and appliances.
Beginning with the fourth quarter of 2016, the Company is now organized into four reportable segments: Performance Alloys and Composites, Advanced Materials, Precision Coatings, and Other. Precision Coatings includes the operating results of Precision Optics and Large Area Coatings. The Other reportable segment includes unallocated corporate costs. 
Performance Alloys and Composites segment produces strip and bulk form alloy products, clad inlay and overlay metals, beryllium-based metals, beryllium and aluminum metal matrix composites, beryllia ceramics, bulk metallic glass materials and precious and base metal electroplated systems.
Advanced Materials segment produces advanced chemicals, microelectronic packaging, precious and non-precious metals and provides deposition reclamation and refining services.
The Precision Coatings group produces thin film coatings, optical filter materials, sputter-coated, and precision-converted thin film materials.
Other includes unallocated corporate costs and assets.
Change
Volume
52 Week High
52 Week Low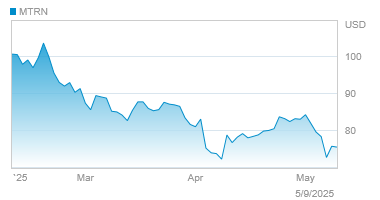 Copyright West LLC. Minimum 15 minutes delayed.
Press Releases
November 18, 2019 at 7:52 AM EST